Hi all,
The topic for this blog entry is the build up to the South Coast Grand Tournament (SCGT), since returning back to the hobby I wanted to make sure that I attended the SCGT. A lot of my friends really rate the event and it has to be the largest held tournament in the UK.
The SCGT relies on a comp scoring system, where certain troop types and items either add to or subtract to your comp score. I really like this style of comp as it's a self-regulated system, as you can still take your toys but you will be penalised with scenarios and dice roll offs. The good thing for me was that it forced me to paint some new figures, which I probably would not have painted in the past.
To bring the soft score of my army up, I decided to add a Witch Hunter (which was talked about in my last blog) and a unit of 5 Pistoliers. Ever since I painted the Gamezone BSB, I have been dyeing to paint more models from this range. As a result, I purchased the Gamezone Mounted Light Gunners who I would be using as Pistoliers. The models are perfectly suited to my theme, and very much reminds me of the Perry twins sculpts from the early-mid 90's.
I was shocked at the quality of casting for the models, the troopers were off a similar quality to GW Metals but the horse's was a very low quality. I can only imagine that the molds must have slipped during the casting process, this resulted in some much distorted legs and very large gaps. Due to the time constraints and lack of stock in the UK I had to bite the bullet and try to repair the models myself. I would guess that there was close to 10 hours prep just on the 5 horses, which involved lots of filing and green stuff re-sculpting. Once this was completed and they had been undercoated I was really impressed with the models.
Below is the completed unit.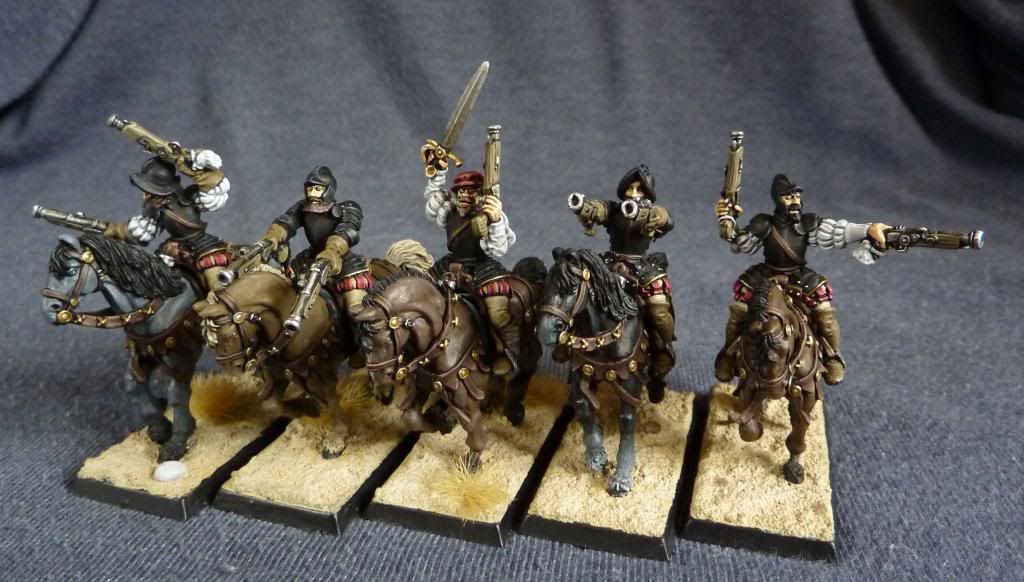 I must be a sucker for punishment as I will soon be adding the Gamezone Mounted Arqubusier's as a unit of Outriders (If I can source them in the UK).
Rich